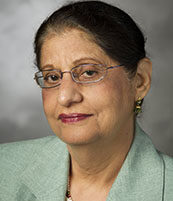 Inderdeep Chatrath, Ph.D.
Senior Advisor, Higher Education - Center for Workplace Compliance
Inderdeep Chatrath is a thought leader, advocate, and consultant engaged in enhancing diversity and equity in employment practices. She leads the Center for Workplace Compliance's Higher Education Initiative to support colleges and universities in their development and implementation of high-impact workplace compliance, DEI, and risk management programs. Dr. Chatrath served as the Assistant Vice President of Equal Opportunity & Affirmative Action Programs in the Office for Institutional Equity at Duke University for 20 years. She recently concluded service on the National Advisory Committee on Racial, Ethnic, and Other Populations of the U.S. Census Bureau and the NILG Advisory Council.
Tuesday, Aug. 1
Workshop 4
Panel: How the Supreme Court's Decision Affects AA in Admissions and Beyond
Marilynn Schuyler, Fisher Phillips LLP; Christopher Metzler, National Urban League; Inderdeep Chatrath, Center for Workplace Compliance

The Supreme Court decisions in the cases challenging affirmative action in admissions at Harvard and the University of North Carolina will be analyzed in this session. What now? What's next? And what does this mean for federal contractors? These questions will be addressed in this interactive session. We will provide an opportunity for participants to share perspectives on the future of affirmative action, and strategies for maintaining (and expanding) diversity regardless of the outcome.
Wednesday, Aug. 2
Higher Education
Facilitated by: Cheri Burgess (Princeton University) and Inderdeep Chatrath (Center for Workplace Compliance)
Higher education attendees are invited to discuss the implications and implementations to advance DEI work following the Supreme Court's decision banning affirmative action in college admissions as well as other higher education issues. Learn from each other and look to share what you are doing at your respective institutions.